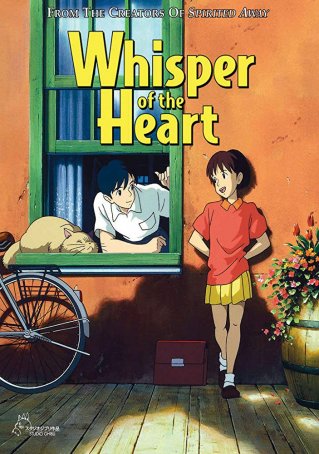 Movie:
Whisper Of The Heart (Mimi o Sumaseba)
Directed by:
Yoshifumi Kondō
Written by:
Hayao Miyazaki
Music by:
Yuji Nomi
Running time:
111 minutes
Country roads, take me home
To the place I belong
Fourteen year old Shizuku Tsukishima lives a blissful life, nestling comfortably in the vast public library where her father works, and burying herself over a pile of books taller than herself all through the day. A curiosity is triggered in young Shizuku when she comes to notice a common name in the due slip in every book she takes- Seiji Amasawa had read every book she picked before she had read! The excitement to meet a match as well read as herself, pushes Shizuku to ask around about Amasawa while day dreaming about how soft and knowledgeable the boy must be. A curious, vagabond cat, called by different pet names in different households, brings these two together. Shizuku meets Baron, a mysterious cat doll, when she visits Seiji's grandfather's antique store. As she gets closer to Seiji, she discovers his dream of becoming a proficient violin-maker, and he confides his plan of pursuing it in Italy.
Shizuku is bothered by one question she asks herself: when she is just as well read, knowledgeable and ambitious as Seiji, why does she not know what to do? Shizuku had often been praised for her budding writing skills, and her charming 'gift' for poetry. She realizes that she has no forethought about her future, and is just dazzled by the everyday life as she flits around one day after another. The transformation of Shizuku, determined to make her life more purposeful, and 'test' herself, is what makes the enchanting tale.
Whisper Of The Wind is a romantic tale of self-realization of the protagonist's abilities, purpose, and dreams. It rides high on the small but vividly mesmarising world of Shizuku as she travels through her adolescene in style- with love, confidence and a vision of spectacular dreams. Whisper Of The Heart is born out of Shizuku, and she portrays herself to be a sweet yet strong person, with an understanding of the world that is beyond those of her age, and with a spirit akin to a warrior.
On Shizuku's accomplishment, we find ours in the movie. As her father proudly and lovingly whispers to his sleeping daughter: "ah, a soldier at ease!" The emotions of the movie are something dear to all of us, having gone through a similar phase sometime in our life and it triggers fond thoughts as we take a trip into our memory lane. Our heart melts as we see the support and warmth that Shizuku's family extends to her. In a time that set rigid rules, we see an accepting, loving, and understanding family who choose to trust Shizuku rather than discern her views.
Whisper Of The Heart is absolutely heartwarming. The musicality of this anime film is captivating, and ensues a sense of calm and peace. From the creators of Spirited Away, this is another classic, and a must-watch for all age groups! I absolutely loved it!
I saw myself in this scene, and couldn't help but break into a wide smile that was quite difficult to wipe off!