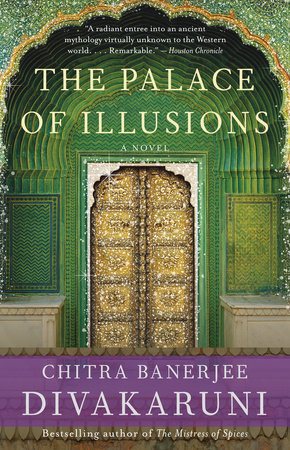 Title: The Palace Of Illusions
Author: Chitra Banerjee Divakaruni
I usually am not fond of reading re-imaginations of Indian mythological stories. That is probably because I have heard them several times before, and also heard them in the best possible style. Poetic adaptations are sometimes fun to read, and we had a lot of them during our Tamil classic literature lessons in school. However, I picked up this book to read sometime back.
Most of us have heard the stories from the epic Mahabharata. It has for years been retold, and stalwart poets have re-imagined the tale in their fluent, mesmerizing verses. Chitra Banerjee in The Palace of Illusions attempts to re-imagine a part of the epic, but from the narrative point of view of Panchali. Starting from the birth of Draupadi as a maiden out of pious fire, till the end, the narrative is maintained from the perspective of Panchali.
The story is not the one that is captivating in this book. We all know them well, and sometimes know it from sources we trust better, and have heard some amazing narrations. Yet, the only reason this book is any different is the twist in who is narrating the story. The idea to re-imagine from the perspective of one of the best, and most classic characters of the Mahabharata, especially that being a woman- is what the book aims to deliver.
The Palace of Illusions is purely a re-imagining of the Mahabharata from the author's perspective of how Panchali might have seen it. It is an interesting experiment, written commendably. The narrative has just the right pace, and is highly engaging. It is must be given to the credit of the author, to have made the story engaging despite us having known every story before. The book is an engaging read, and the flow of the author as to how Panchali might have narrated it has been a refreshing read. However, I personally did not feel overwhelmed by the book, as compared to a lot of people who seemed to have been.
Finally, to wrap it up in one line, the readers have to bear in mind just one thing: it is not the Mahabharata, it is an imaginative retelling of stories from the epic as imagined by the author from the narrative of Panchali.
It was an interesting read, although!