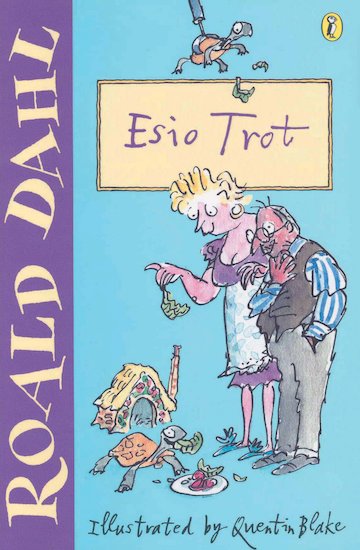 Roald Dahl books are always fun to read! They are simple and sweet, and will make us smile as we read.
"Esio Trot" is a story of a man, Mr. Hoppy, who tries to please the woman he loves, Mrs. Silver. Mrs. Silver is a tortoise craze, and is unhappy that her lovely little tortoise, Alfie, is not growing up to be big! Mr. Hoppy seizes this opportunity to make her happy. He writes a few lines(meaningful words written backwards)-
WORG PU, FFUP PU, TOOHS PU!
GNIRPS PU, WOLB PU, LLEWS PU!
EGROG! ELZZUG! FFUTS! PLUG!
TUP NO TAF, ESIO TROT, TUP NO TAF!
TEG NO, TEG NO! ELBBOG DOOF!
-claims it magical, and asks Mrs. Silver to repeat it until Alfie becomes bigger. Mrs. Silver follows his advice religiously. But, Mr. Poppy, gets all different sizes of tortoises with the same shell colour as Alfie, and keeps replacing one by one instead of Alfie, to create an illusion that Alfie is slowly growing in size! Finally, he makes Mrs. Silver so happy, and asks her to marry him. Mrs. Silver, finally, becomes Mrs. Hoppy!
"Esio Trot" is a wonderful book! It is so ridiculously simple and funny, and yet so lovable!